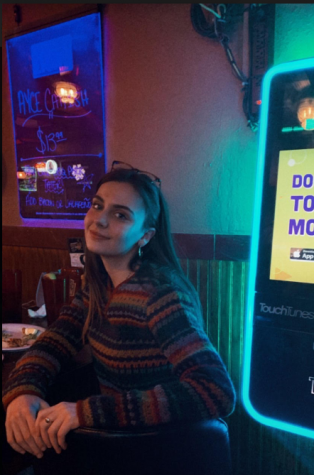 Cecilia Zelioli, or Ceci for short, is a 17-year-old foreign exchange student from Cremona, Italy currently living in Rolla. This past January, Ceci finally fulfilled her childhood dream of traveling to American as part of a foreign exchange program. However, Ceci's experience living in Rolla and studying at Rolla High School was recently cut short due to COVID-19. 
   Ceci's program, Education First, recently decided to send all foreign exchange students back to their home countries over COVID-19 concerns. This put Ceci, as well as multiple other foreign exchange students studying at RHS, in a difficult position—Ceci even more so considering the severity of the coronavirus in Italy.
   Ceci shared her predicament with ECHO, saying "I would like to stay here because I was supposed to spend a full semester here, and now because of the coronavirus they are cutting off my experience here. I am so disappointed about it, but I think I have to accept it." 
   Ceci was supposed to travel back home to Italy on April 5, but her flight had to be cancelled due to the coronavirus. Ceci's new flight is scheduled for two weeks from now, but she is still unsure if that flight will be cancelled as well. Although grateful for more time in Rolla with her host family, Ceci struggles with the uncertainty of when she will be able to return home to her family. 
   "I was happy to know that they cancelled my flight, but also sad because I was prepared to see my family and happy to see them," Ceci shared. "Unfortunately, my grandma died a couple of days ago because of the virus and my parents got the coronavirus two weeks ago, but they are healthy now. It's difficult because I am far away from them, and I'm sad because I couldn't say goodbye to my grandma."
   Even once back home in Cremona, Ceci will not be able to interact with her friends or family. 
"It's really awful. I have to stay in quarantine for two weeks and I am not able to touch them because I will go through four different airports and the risk of getting coronavirus is really high," Ceci explained.
   Given COVID-19's personal impact, Ceci is frustrated by those not practicing proper safety guidelines. 
   "It's selfish. My grandma died because of the coronavirus, and maybe because of stupid people who didn't respect social distancing or quarantine," Ceci said. "When we were still at school, I was so upset because people made fun of the coronavirus and the situation in other countries. I told them 'You can't understand the situation because you are not in it, but you will feel it when your family—I hope they won't have the coronavirus—but if they get it you will understand what it means.'"
   Despite the unexpected heartbreak she has faced due to the coronavirus, Ceci maintains a positive outlook. 
   "I am really glad to be here and to spend time here because I met some amazing people and I have an amazing host family. This experience is still positive, even if there is the virus. 
   "I think it was the best choice of my life to come here because I realized that the people all over the world are the same. Even if we have different cultures or even if we have different situations at home, we are all trying to save each other because we are all the same all over the world. We feel the same feelings and we are all at risk. 
   "I think there's one big positive thing, that is everyone can help each other. Even if we don't know each other or are strangers, we know that everyone went through a lot in this difficult situation.  When everything is over I think we will be closer, even internationally speaking," Ceci said. 
   On that note of international relations, Ceci had another important sentiment to share. 
   "Just one more thing," she said. "Some people here think that pizza is American. No, it's Italian."