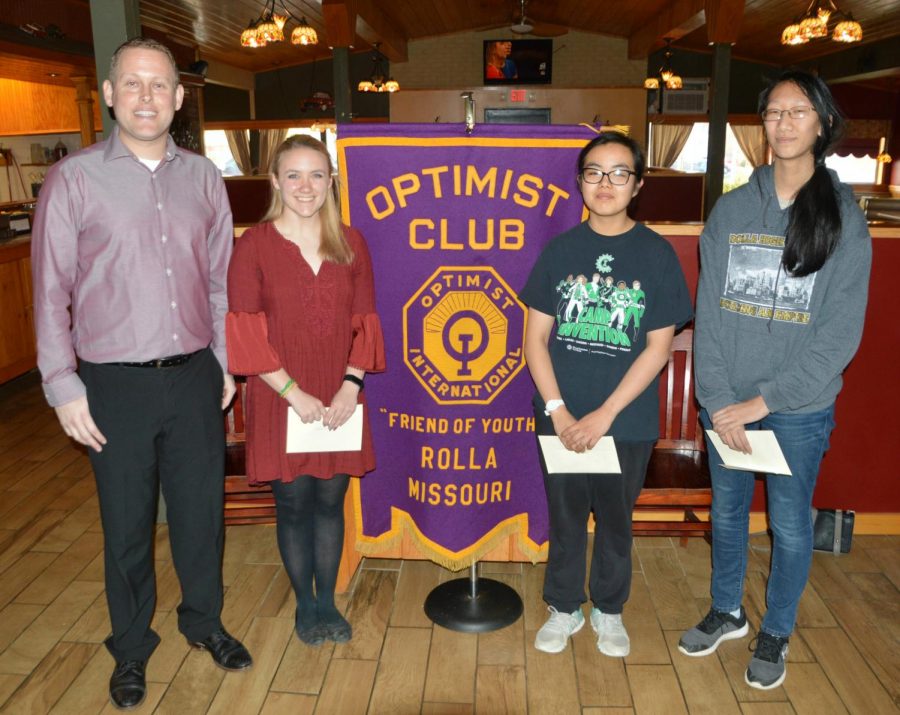 Three Rolla High School students were recognized on Wednesday, March 20, at the meeting of the Optimist Club of Rolla for their essay contest submission. The Essay Contest is sponsored annually by Optimist International to give young people the opportunity to write about their own opinions regarding the world in which they live. The approach can encompass a young person's personal experience, the experience of their country or a more historical perspective. In addition to developing skills for written expression, participants also have the opportunity to win a college scholarship. This year's topic is "When All the World's Problems are Solved, is Optimism Still Necessary?"
Senior Katherine Conaway was awarded first place. Her essay was selected to represent the Optimist Club of Rolla at the East Missouri District competition. Ms. Conaway shall be attending the University of Missouri – Columbia in the fall.
Sophomore Elena Bai received the second place award. Freshman Angela Yang received the third place award.
Presenting the 2018-19 Optimist Club of Rolla essay contest awards was Optimist Club President Matthew Butcher. Chairperson was Robert Barth. Essay judges were Donald Dodd, Mary Gillis and Corbin Kottmann.