Key Club hosts 5k fundraiser this weekend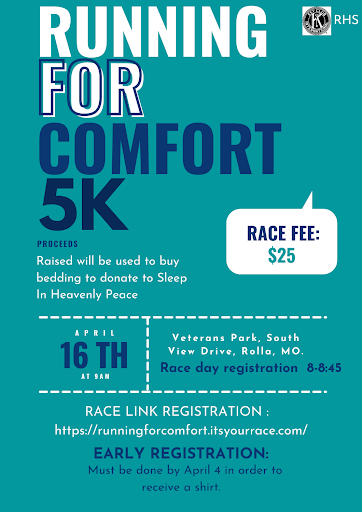 The Rolla High School Key Club is hosting a 5K Run/Walk at Veterans Memorial Park to raise money to purchase new bedding sets for youth on April 16.
"The proceeds go to Sleep in Heavenly Peace, where they are going to donate blankets and then they give them to children in need," said Key Club co-president Madison Rogers. 
Key Club performs monthly charity events. 
"Our whole goal is just to serve the community and the people around us. Every month we do some kind of event. We've done food drives, blood drives. We always try to do a spring clean up, but then we never get to do it because it's rained in April, and the stream gets too high, so we ended up doing a trail clean in March, but we needed something for April," said Rogers.
This particular fundraiser was rallied for by the other Key Club president, Isabelle Crowell.
"We were just brainstorming and Isabelle came up with the idea to do a 5k, and she really wanted to do it for Sleep in Heavenly Peace. All year, she's wanted to do something for it, and everybody [in Key Club] thought it was a great idea," said Rogers. 
Sleep in Heavenly Peace is a 100% volunteer driven national organization that builds beds for children. 
"I personally offered this charity because I helped build beds one time, and I thought it would be a good place to help," said Crowell. 
This event is not only open to all ages, but to multiple species as well. 
"Everyone is welcome and are completely free to bring their dogs or strollers and can walk or run as much of it as they want," said Madeline Castle, a member of Key Club.
Race day registration is 8 a.m. to 8:45 a.m. and the race takes off at 9 a.m. The cost per person is $25. Awards will be presented to the first Overall male and female and first and second in the following age groups 14 and under, 15-19, 20-29, 30-39, 40-49, 50-59 and 60+. To register, visit https://runningforcomfort.itsyourrace.com.