Rolla district navigates at-home education, online learning
This week across the Rolla Public Schools district, each building has closed its doors in response to the spread of COVID-19. After an extended spring break lasting from March 17 to April 3, students' education finally resumed on Monday, March 30—although in an entirely new format. Beginning this week and lasting through April 30, students, staff and parents will be navigating a new system of at-home learning.
Faculty of each individual school devised learning plans for their students with various methods of instruction and implementation, while aiming to provide options for students without internet access. Instruction this week consists solely of review lessons, as RHS Principal Dr. Jim Pritchett explained in a statement to RHS students and parents on March 30.
"This week we have asked teachers to prepare review lessons for students. The idea is to re-engage the learning process and get students back in the swing of learning. After all, they've had a week-plus of spring break to disengage," Dr. Prichett said.
Although these lessons are primarily being distributed online, such as through Google Classroom, students lacking internet access have the option to pick up physical packets of materials at the front office of the high school.
However, this may not be a permanent solution to the issue of internet access, as Dr. Pritchett addressed saying, "If a decision is made to extend the school closing, additional information will be provided to assist with academic learning including the acquisition of technology to assist those with online learning."
Other schools in the district are using alternate methods of implementation, with Rolla Middle School going as far as mailing packets of lessons to each of its students' homes. Despite varying methods of execution across the district, each school's plan shares a common goal of being flexible and accommodating as parents and students navigate this unprecedented situation.
Truman Elementary School Principal Dr. Amy Welch echoed this message in a statement addressing Truman families regarding their learning plans.
"As a mother to three, I understand that working from home while trying to create a learning environment for your child can be a challenge. Please remember that we are all navigating this together and undoubtedly, need to give ourselves and our children a lot of grace during this time.
"Support your child as they focus on academic tasks but encourage them to play outside, listen to music, or read a book. There are a lot of authentic learning opportunities connected to home such as cooking, fixing something, or gardening. Take advantage of this unique learning opportunity and time together as a family," Dr. Welch said.
To help provide said learning opportunities, RHS Librarian Jessie Kirkbride has gone out of her way to offer online learning resources for students to utilize during this time.
"I want all of 'my kids' to have what they need during this time: a safe place to stay, food when they need it, adequate technology and/or resources to continue whatever education will look like for the significant future," Kirkbride explained. "That might mean devices or internet for some. For others, it could mean activities to keep younger siblings happy and busy or even a fishing pole."
To lessen the burden on students and parents as they navigate at-home education, Kirkbride has created a new section of the RHS Library website for temporary, free online resources. These include thousands of ebooks and audiobooks through the Sora app, pre-K through ninth grade projects and activities through Scholastic and the Rosetta Stone for Students service among others.
"I think it'll be challenging not only for teachers trying to get their information out there and trying to decide what information is appropriate to push out but also for parents like me who are trying to work and help with the lessons," Kirkbride said. "I hope everyone knows they can come to me for whatever their needs might be and I'll try to help."
For assistance using online learning resources, contact Jessie Kirkbride at [email protected] To connect with the RHS library, visit http://bit.ly/RHSLIBRARY or follow @rollahighschoollibrary on Facebook and Instagram. To view individual schools' learning plans as well as district-wide updates, visit the "What's New" tab of rolla31.org.
About the Writer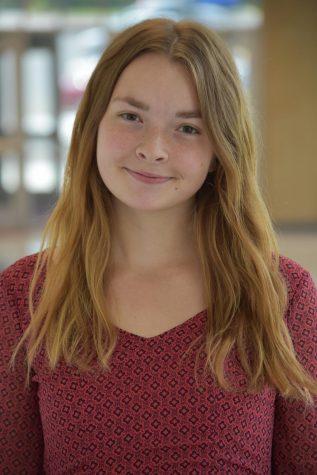 Lauren Ulrich, Staff Writer
Hello! I'm Lauren and I'm super excited for my first year in Echo. I'm a junior this year, and I'm involved in band, debate, eco club (you all...