NHS End Alzheimer's Ice Cream Sales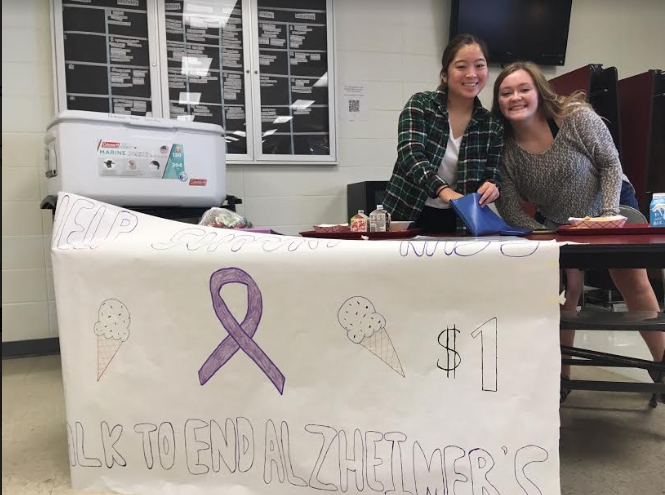 Push Pops, fudge bars, and creamsicles have adopted a higher purpose this week at Rolla High School. Students with National Honors Society have been selling ice cream each day at lunch to raise money for the Walk to End Alzheimer's. The ice cream fundraiser is a tradition for RHS and a proud undertaking for National Honor Society. 
   Senior Kate Mallery, President of NHS, has spent her lunch shifts this week working the booth.
    "It's going really well," Mallery said. "A lot of people have been buying ice cream to share with friends and Drew Bar was a customer."
The $1 dollar ice cream is popular in the cafeteria, causing a small flock of customers around the booth at all times. While students clearly enjoy the special treat, Mallery reminds that National Honor Society's intentions go beyond filling stomachs. 
   "NHS helps with the Alzheimer's walk every year because it's a good cause," Mallery said. 
   Along with the ice cream fundraiser, NHS will be participating in the walk itself. The Walk to End Alzheimer's is held annually and with over 600 participating communities, is the world's largest event to raise awareness and funds for Alzheimer's care, support and research. Rolla's event will take place September 21st at Lion's Club Park with registration at 8 a.m. 
   Members of NHS will spend their Saturday volunteering at the event and joining in on the walk. These students will be one small part of a diverse group of community members, including persons with Alzheimers, loved ones, and supporters, showing their solidarity and support for curing Alzheimers.
 Thus far, Rolla's event has 28 teams registered to participate and has already raised $19,729 of its $40,000 goal. While $1 ice creams may not be the largest contributor, Mallery believes the high school's involvement is meaningful for the cause. 
   "Alzhiemer's affects people in our community, so it's a really good cause to support research for," Mallery said.