Girls, boys basketball end historic season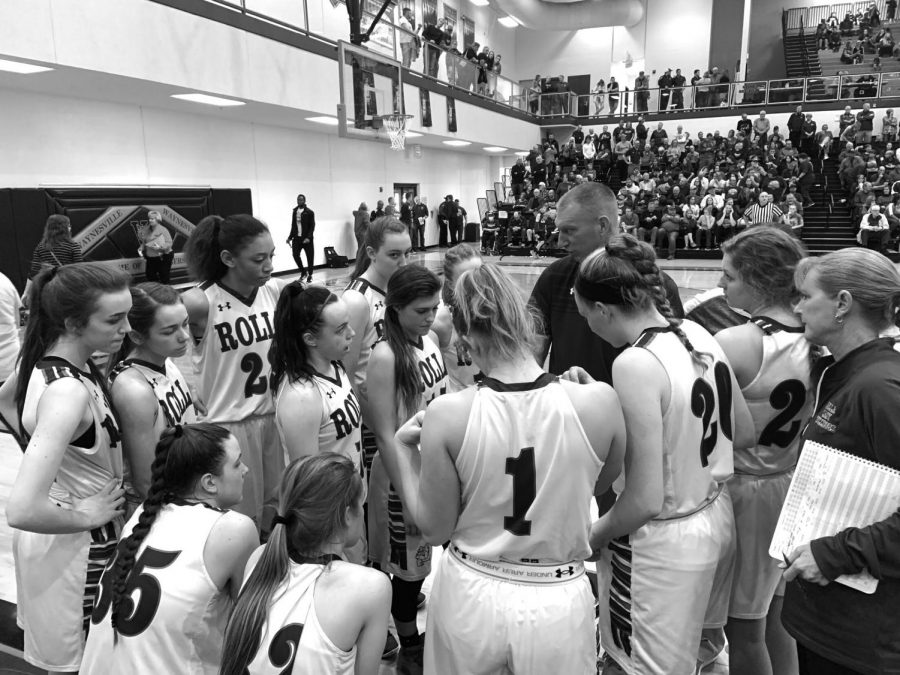 During Rolla's postseason push the boys and girls team had many ups and downs. The boys team lost in heartbreaking fashion to Sullivan during the district championship by a score of 48-38 finishing the season 18-9 with a second place finish in districts and fourth in conference. The girls,won the district title against Owensville by a score of 62-60, and ended the season with a loss in the quarterfinals to Logan-Rogersville a score of 45-40, but not before sealing the conference and district championship and a total record of 24-4.
When playing such a high stakes game, it is easy to succumb to the pressure of playoff basketball. Senior Alec Buhr, a captain on the basketball team does not worried about changing his mentality as a leader of the team.
"My mentality doesn't change as far as being the leader. I've told the underclass players that if you want to play for someone, play for the seniors who have a limited amount of games left," Buhr said.
Towards the end of the season, the stakes of every game are raised as teams get tougher and tougher to compete against. Senior RJ Alfred is motivated to play this off season.
"It's surreal, I mean my whole high school basketball career could potentially be over after any game. It just makes me want to go harder, I don't want to lose, I want to make it as close if not to state," Alfred said.
Junior Ellie Rodgers believes the team has been performing well this season.
"I think the team has been really clicking and playing great the whole season, especially during these past few games, knowing that district games are coming up and we have to be on our A-game for those," Rodgers said.
As a coach it is important to keep athletes focused on the game at hand and not to succumb to the pressure. Coach Luke Floyd prepared his team quite well to compete all season.
"We have spent the season working on fundamentals. We put in a couple of new things for the postseason, but mainly spent time fine-tuning what we do. As far as the mental aspect goes, it's the same approach that we took during the regular season. One focus on the game at hand. Two focus on defense…defense wins championships. Three win possessions. If you win possessions, you win quarters. If you win quarters, you win games," Floyd said.