Students make choice to give back to community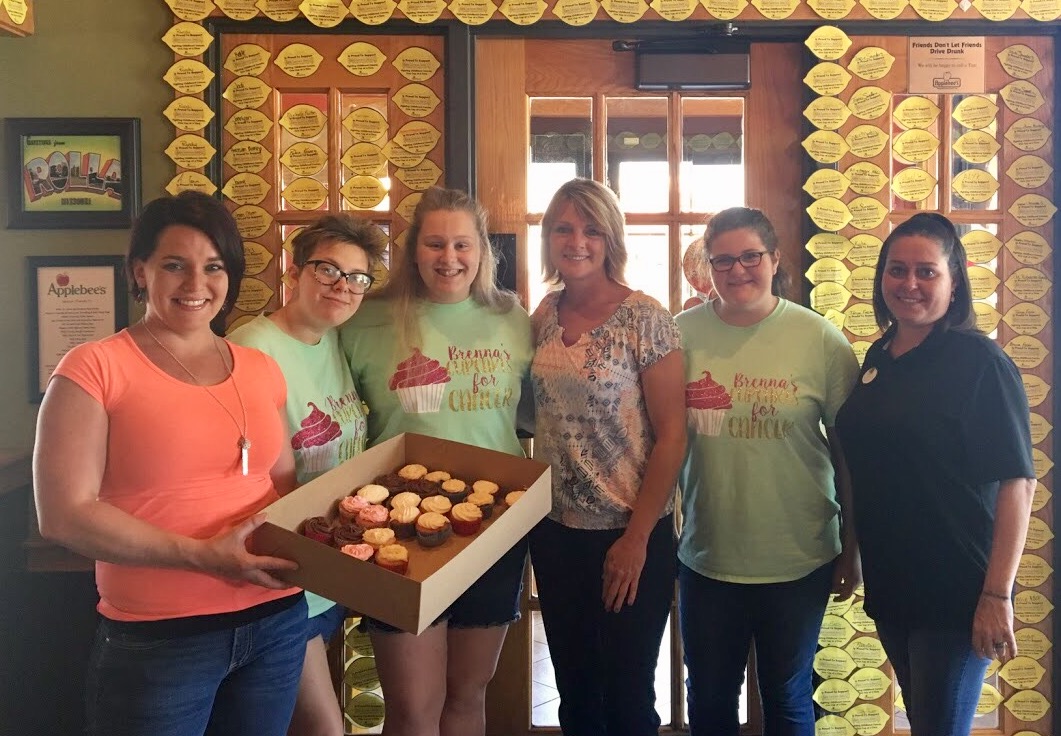 There are abundant ways for Rolla High School students to contribute to their community. Whether through a club, organization, or individual efforts, many students find ways to volunteer in Rolla.
Some students have gone above and beyond to help others. One such student is sophomore Brenna Heavin. She started the fundraiser "Cupcakes for Cancer" when she was only ten years old.
"So, basically we make and sell cupcakes for a dollar each and we sell them to the community all around us and we take back the money and it goes to the Joy of Caring Cancer Fund," Heavin said.
Heavin has been running this fundraiser every summer since it began in 2007. Over the years, she has raised about $16,000 dollars in donations.
"The Joy of Caring Cancer Fund was actually started by one of your relatives, which we didn't know until we were done with the first year," Heavin said. "She had breast cancer and so she set up an account and the account basically is for things that cancer patients don't think about when they're going through things. They normally don't think about: how am I going to get there? How am I going to pay for the gas? How am I going to get the groceries for the family?"
The Joy of Caring Cancer fund is based at Phelps County Regional Medical Center. Heavin's proceeds through her fundraiser have gone directly into helping the local community.
"Well, whenever I was really young I just wanted to do something to help people. So I just kind of came up with a couple of ideas and decided on this one," Heavin said.
With one small idea, Heavin's wish to help others transformed into a hugely successful and beneficial project that has greatly impacted many people's lives.
"Definitely start with family because family really helps. Reach out to people and just kinda start it and just grow with its," Heavin said.
Students also have many volunteer opportunities to take part in through clubs at the High School. Many of which are dedicated to community service. One such club is Octagon Club.
"Octagon Club is a service Club that is like Optimist Club for teens. It focuses on helping youth in our community," senior Octagon President Adrienne Pyeatt said.
Optimist Club is a community organization in Rolla that runs nonprofit activities for youth, such as sports programs, academic programs, and community events. Similarly to the Optimist organization, the members of Octagon Club spend their time hosting fundraisers and events for the benefit of youth in the community.
"There are tons of opportunities to volunteer in Rolla. I would say that if you are just looking for something really quick, go on over to the partnership. If you drop by Octagon Club on Thursdays after school, anytime, any meeting, I can set you up with something right there, like a coaching opportunity if you like sports. There are just so many ways to get involved and help others," Pyeatt said.
For Rolla High School students, there are a large variety of volunteer options available. Students can volunteer through service clubs, local nonprofits, and community fundraisers along with others. Octagon Club encourages students to take advantage of these pre existing volunteer opportunities, as well as hosting fundraisers of their own.
"For example, our book drive is going on right now, our head of the event is Ashley Barth and she has been so wonderful and she's so excited about this project and I'm really glad that I've been able to help her get it done and that she's done such a great job with it. I think it will really benefit the youth in our community," Pyeatt said.
The book drive targets elementary and middle school students of impoverished families. The books will be distributed to nearly 220 kids in the school district through the after school backpack program.
"We're doing the book drive so that young students can have some books at home, because generally in poverty stricken families there isn't a big push for intellectual stimulation. I think it's very important for young students to also be provided the tools so that they can have a bright future and so they can learn and get educated," Pyeatt said.
Pyeatt encourages all members of Octagon Club to be involved in a variety of projects throughout the year.
"As President, I really urge people to be active in our club and participate and share their own ideas with me so that I can help them by using my connections with Optimist Club to get what they want to do done. If there is something that they're passionate about, I'm kinda the one who makes that a reality," Pyeatt said.
Pyeatt is the senior class President, Color Guard captain, copy editor for ECHO, and President of Octagon Club. Her volunteer efforts show that even with the busiest schedule, students can always find time for volunteer work.
"I have learned that it really makes you feel good at the end of the day. I've learned a lot about getting involved and making connections and helping others get involved. I've learned that it doesn't take a lot to make someone's day," Pyeatt said.
There are multiple other service clubs at the high school similar to Optimist Club. Each of these clubs has its own goals and purpose. Eco Club is one such club.
"Eco Club is a service club where we go around and basically we take care of the recycling in the high school. So we go around every Monday and we collect your cans, your plastics, we collect all of the paper, and we go through and we sort this. In other words, we're in control of recycling at the school," junior Genevieve Wilson.
Wilson is the Vice President of Eco Club.
"Essentially, what the President and I do in the club is we're in charge of telling the kids where to go, who's in charge of what floor, who's assigned when and where they're doing this, where we're going to meet," Wilson said.
Eco Club is committed towards making the High School more environmentally friendly and helping the community one small step at a time. It meets every Monday after school to take out recycling and promote sustainability.
"I think it's as simple as walking out of the house and remembering to turn off your lights to help conserve electricity," Wilson said. "I get it, we're all stressed out high schoolers, but saving a little bit of water in your shower, turning off the water whenever you're shampooing your hair, make sure you're recycling because there are recycling bins everywhere. It's the little things that count."
Students not only gain the satisfaction of helping others through their volunteer work, but also learn important life lessons along the way.
"I think it has definitely broadened my horizon to my view on society. Especially that of my peers," Wilson said. "Seeing these groups of young individuals in this society being able to come together to try and help better it really instills a sense of hope in someone, while also knowing that you're a part of a group that is trying to make the world a better place, that we're not all just self centered young individuals like they tell us we are. We are the future and we are here to make it a better place and we are starting by banding together and all working towards a greater cause. It's an empowering feeling to know you are the future."