RHS Student Honored at State Level for Poetry Collection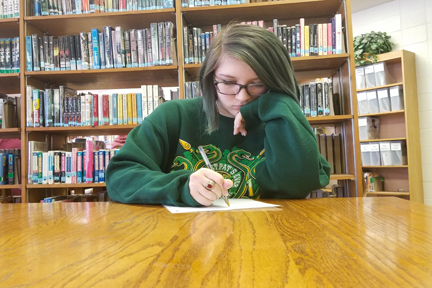 Hang on for a minute...we're trying to find some more stories you might like.
The Scholastic Art and Writing Competition is an annual national competition that goes through two levels of competition. Each entry must go through a competition at the state level before continuing to the national level. Senior Abbee Hilgers of Rolla High began working on a submission for the Scholastic Art and Writing competition last year in her creative writing class, and submitted her poetry collection in early January.
  After submitting her collection, Hilgers received notification that she was awarded an honorable mention at the state competition. Hilgers, her family, and Star Hargis, her creative writing teacher, will be traveling to Tan-Tar-A resort in Osage Beach, Missouri, on February 16th where Hilgers will be awarded her certificate. Hilgers's poetry collection will be featured in the online edition of the Missouri Youth Write Magazine, which will become available for viewing in June of 2018.
  Hilgers feels grateful to be recognized at the state level, and is honored to receive her first writing award.
"It's pretty exciting because I want to do writing for my future, so it is cool that I have got a published work before I am even eighteen [years old]," Hilgers said.