Library hosts annual Poetry Jam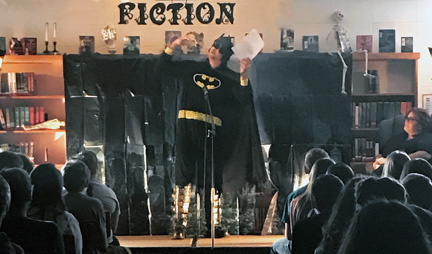 Hang on for a minute...we're trying to find some more stories you might like.
Each year the performances bring laughter and tears. This year is no exception as students lined up to take the stage to recite poetry.
This annual event is attended by all students in the English classes throughout the day. Library Jessie Kirkbride creates a warm and inviting setting, and even provides delicious cookies at the end. Students volunteer to share some original works as well as some favorites.
Beginning next week, students in English classes will have the opportunity to audition for a more serious poetry position as RHS will host its school wide Poetry Outloud competition. College American Literature teacher Bre Chenault will coordinate the competition and the winner will represent Rolla at the regional competition in early 2017. Regional winners advance to state and state winners advance to nationals.
Last year, (then) Freshman Angelreana Choi won the regional competition and advanced to state.