Renaissance festival gives Choir students theatrical experience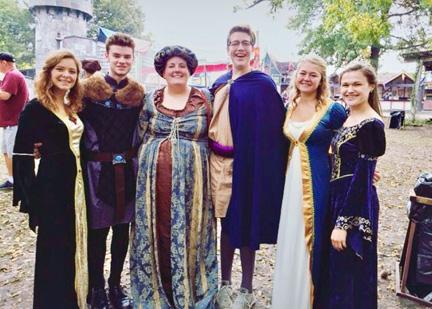 Hang on for a minute...we're trying to find some more stories you might like.
Walking into the Renaissance Festival, visitors can't miss the strong aroma of turkey legs and fried fair goodness. Then they are immediately swarmed with shopkeepers trying to get them to buy their candles or souvenirs. There are also some crazy performances that visitors can see there.
"The weirdest story right before we performed at the Renaissance Festival was that there was a group of belly dancers that were on the same stage that we are so the choir kind of had to sit through this belly dancer routine and it was just kind of funny to see the expression on the students' faces of seeing this for the first time," choir director Jason Bartelsmeyer said.
The belly dancers made a point to get interactive with the audience.
"The oldest one would come around and try to get a bunch of people in the crowd to hook up with some of the other performers and I thought it was really funny because they would take people who were just sitting by themselves or who weren't with somebody else. They'd be like, 'So which one of my daughters would you like?' or 'Which one of my sons do you find attractive?' So that was funny," senior Christina Woelk said.
Year after year, the students come back for the great memories made there. Here the choir members get to learn about the impact that the arts have made in that historical time period. However, it is not all fun and games, at the Renaissance Festival the choir also performs a skit.
"This is an annual trip that we have taken over the past 25 years. The chamber choir performs a skit that is written by the director, and we sing about 7-8 songs, and we perform three times at the Renaissance Festival, and we just completed the trip very recently," Bartelsmeyer said.
Besides performing at Ren. Fest, they also have some leisurely time to explore. At Ren Fest, there are shops where you can buy items from that period of time. There are also concessions where you can buy great Renaissance-esk food.
"They always have massive turkey legs there that are delicious, and all the food is Grade 1 food. It's fantastic!" junior Kelton Heavin said.
After delighting in a savory meal, they perform their skit at The Maple. This year, one of the songs the choir performed was from the comedic movie Robin Hood: Men in Tights.
"This song featured the guys and this little dancing number so that's kind of the first time that we did something regarding just the guys and they did a nice job singing the song," Bartelsmeyer said.
From the songs they sing, to the crazy roles the people there play, the Renaissance Festival is a fun experience for choir students to take part in.
"It's really fun to just chill out and sing for random strangers, essentially. We really don't know anyone at the Renaissance Festival besides our little group, so it's always interesting to see who comes by and watches our show, or who just notices us," Heavin said.